She's a Killer Clean-er!
Janitorial UK Team
Could your cleaner be making you and your staff ill?
According to the Office for National Statistics an estimated 137.3 million working days were lost due to sickness or injury in the UK in 2016. This is equivalent to 4.3 days per worker.
Minor illnesses, such as coughs and colds, were the most common reason for sickness absence in 2016, accounting for approximately 34.0 million days lost (24.8% of the total days lost).
Cross-contamination of cleaning materials could be one of the key factors for such a high absence rate of minor illness within the workplace. In this article, we aim to help you improve your knowledge and understand the seriousness of colour coded cleaning systems and the importance of training staff.
This image shows that this establishment has the correct systems in place but there has been no or little training provided or it could suggest that the systems are not being monitored. This is a prime example of the things we see on a day to day basis when performing site visits.
So what is a colour coded system?  it is a universal colour code system which was first developed in the late '90s by The British Institute of Cleaning Science which would be recommended for use within the cleaning industry to date.  Over the years the BICSc has reviewed its recommendations to align with other leading organisations.
BICSc believes that all materials within a cleaning materials cupboard should be colour coded including; cloths, mops, buckets, aprons, and gloves. The four main colours used and to separate out areas such as General Areas (Blue), General kitchen & food use (Green), Sanitary & Washrooms Floors (Red) and Wash Basins & Washroom Surfaces or isolation areas(Yellow).
As well as cleaning equipment we now have available colour coded chemical systems which compliment's the recommended coding system perfectly. This Chemical system has been developed by clover and has proven to be very popular with our customers. Download our FREE Colour Coded Chemical Wall Chart  Janitorial-UK-DoseIt-Free-Dowload.pdf (134 downloads) .
The importance of training and preparation
As we have shown you above you can have the correct systems in place and all the wall charts in place but this does not mean that you have protected yourself and any visitors from the cross-contamination of germs. From experience, we know that most members of staff are trained in this system and many more company policies when they first start their new cleaning role but with all the other information they have to take in with a new job it can be easily forgotten. We recommend running through your literature every 3-4 months with your staff but more importantly check that they understand why we have these systems in place.
Not everything falls on the shoulders of inadequate training, cleaning cupboards can also be a major part of the problem. In the past, we have seen cupboards similar to trolley above. Where everything is has been thrown in and can be seen to touching other coloured items which ultimately defeats the objective.
We recommend separate shelves/areas within the cupboard with the correct colour coded labels and educational posters on the wall as well as wall brackets for mops and brushes, keeping them off the floor.
We now offer a FREE service at Janitorial UK. We will send a member of our team into your business premises, where we will perform a full assessment of your cleaning systems, cleaning cupboards.  After our site visit, we will compile a report of our recommendations which we will relay back to yourself. In the new year (2019) we will also be launching our training academy which will offer complete staff training programmes and refresher sessions which Janitorial UK customers will have access to all year round.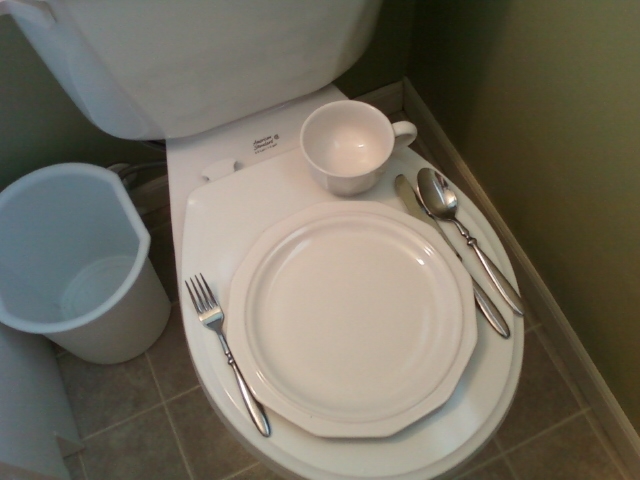 So if you take anything from this article please remember – Green touching red could equal a few days in bed, or worse dead!